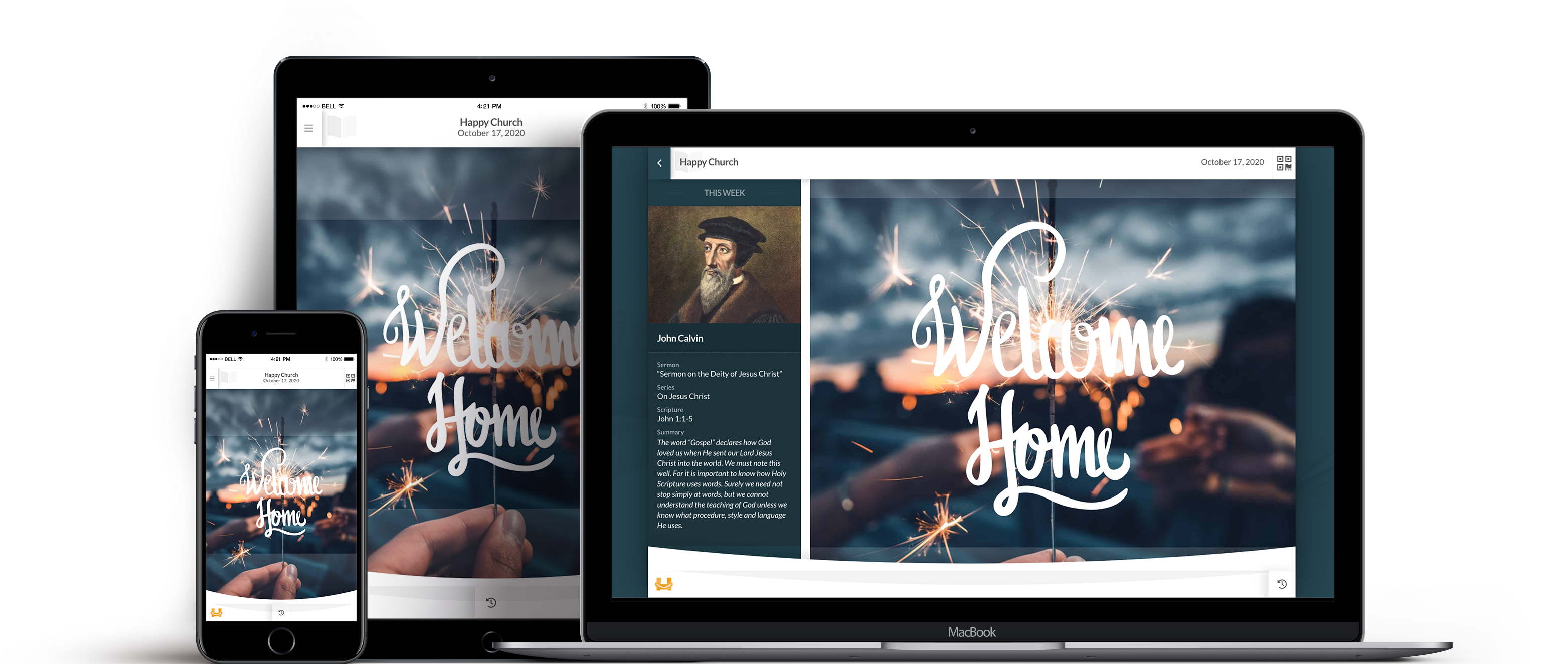 It's easy to get your church bulletin online for $59/mo.We are a "ministry-first" business. If the cost is an issue for you, please contact us.
A "contactless" church bulletin that doesn't need an app to use? Absolutely.
Send out a weekly online church bulletin in the most contactless and hygienic way possible. It's easy to get your church bulletin online with Happy Bulletin.
Simply create your appropriate content:
– announcements
– events
– prayers, etc.
…create a bulletin "shell", then add your content to the bulletin. It's really that easy to create and maintain your church bulletins online.
No app to install, as it runs directly in your web browser.
$59/mo.
Ready? Sign Up Now
Takes 5 minutes
Prepay Quarterly: $55/mo.
Prepay Annually: $49/mo.

Please know that we are a "ministry-first" business. If this is an effective tool for your church, we never want funding to be a hindrance. Contact us if it is.
Easily Shared with a QR code (NEW)
We have added a new requested feature: Each bulletin now has an embedded QR code, which is natively scannable from any current iPhone or Android (using their camera), or any older phone with a QR scanner app installed.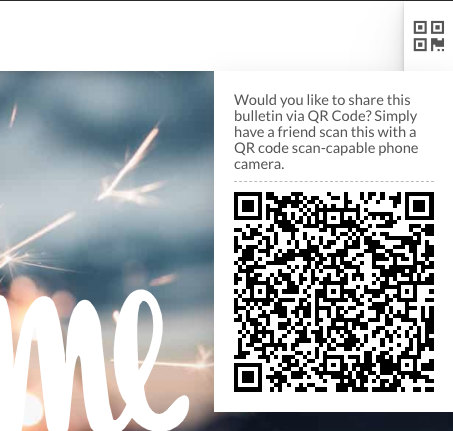 ---
Check it out yourself
Open our sample bulletin on your computer, tablet, or phone.
Printer-Friendly by Nature (NEW)
Sometimes you just want to have a printed, paper version of your digital bulletin. Now you can! From your home computer, click "Print", to have a clean version of your bulletin, stripped of images and formatted to be the most efficient with your printers' ink. It also prints the QR code to easily pull up the digital church bulletin at any time. This is not for mass-printing of full-layout bulletins, but addresses a simple need for home users.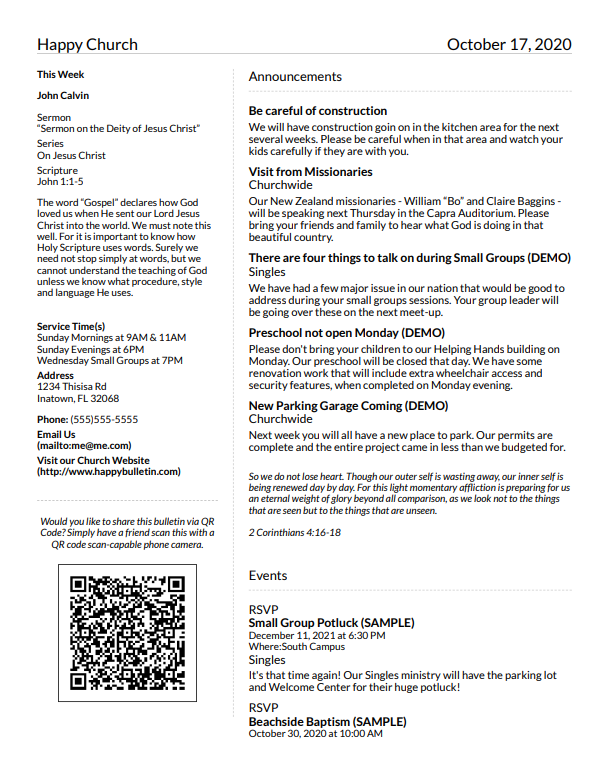 ---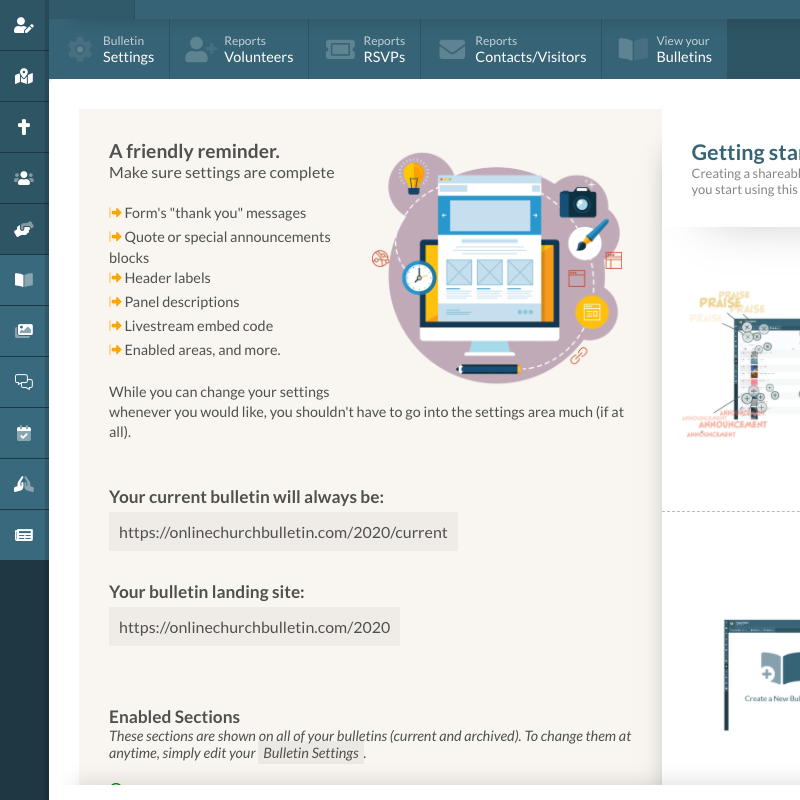 Updated to v3.5
Our custom management dashboard has been completely re-written to provide the smoothest experience possible.
Add your content – Announcements, Events, Prayers/Praises, Welcome Letter – using simple forms in your dashboard.
Bulletins are archived automatically.
Enable (show) areas you might not need, or might need later on.
Edit or delete content at any time.
Customize your "thank you" messages shown to users who submit contact, rsvp, and volunteer forms.
Maintain an up-to-date staff directory for your users.
Add sermon series, summary, scripture, and title for each bulletin you create.
Export your volunteer, contact, and rsvp submissions.
…and much more.
---
Your Custom Landing Page
When you set up your account, you are given your own url to provide to your members and visitors. This landing page will bring any member or visitor to your online church bulletin simply by your custom link. The open any browser on any device and do this, without needing to download an app or go through any signup process. It's a friendly, non-invasive approach to online church bulletins – as it always should be.
Example: onlinechurchbulletin.com/firstdallas
Our live example demo:
onlinechurchbulletin.com/2020
This landing page make is easy for your users to instantly see your latest bulletin – which is featured when the arrive on the page.
Ready? Sign Up Now
Takes 5 minutes
Some FAQs
…you've asked.
We will try to post more questions, as they come in, but here are a few that might be in your head right now.
Ready? Sign Up Now
Takes 5 minutes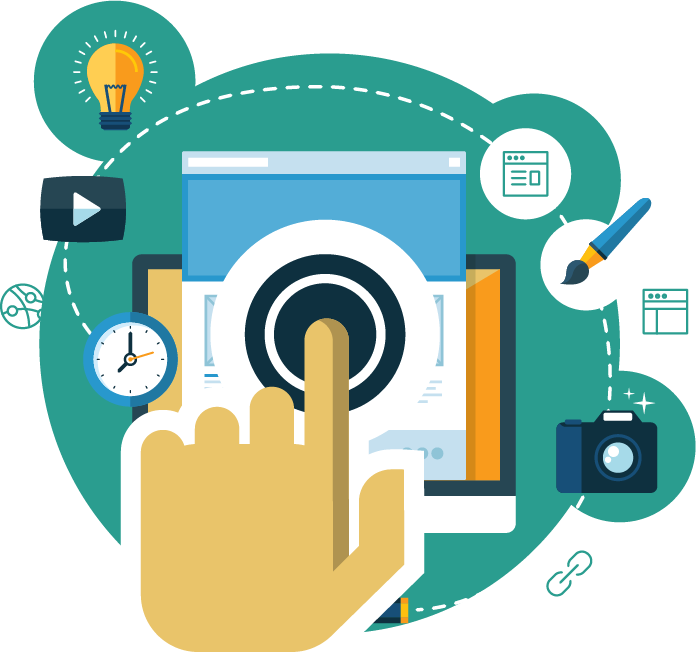 "Old Reliable."
Yes, the printed church bulletin has been a staple for every sized church in every generation we can remember. It's provided the information to our congregations and visitors every week. Times have changed, though. High printing costs, hygienic concerns, tossed aside or stacked unused bulletins, and other issues have made them increasingly difficult to justify.
Unfortunately, they are just not easy to leverage anymore.
…which is why we created Happy Bulletin.
Our online church bulletins:
Are easy to create and manage
Archive automatically
Encourage communication through volunteer, contact, and rsvp forms.
Save on printing costs, including the headaches when a print job fails or needs reprinting.
Can be easily shared via email, website, or social media using your static landing page url.
Are easily embedded on your own website.
Just think…no more sinking feeling in your stomach when budget time rolls around.
"Happy Bulletin has greatly improved communication to our church, both on Sunday morning and during the week. The online bulletin tool allows us to provide our congregation with a beautiful church bulletin — with announcements and prayer requests — in real-time. Plus it allows us to save money on paper and printing! The included functionality to display staff contact info, receive visitor information, and share church information easily makes Happy Bulletin a big blessing to our church."
Rush Witt
Lead Pastor | Paramount Church

We developed, and continue to enhance, Happy Bulletin, as an invaluable tool for churches and ministries to use as an outreach and in-reach communications resource.
If you have a question or comment on how our online church bulletins might help in your church family, please let us know. This is the reason we exist – to equip churches and ministries.
Thank you so much,
Bryan Chalker

Founder and Lead Designer @ Happy Bulletin
Want to stay in the loop?
Sign up for our email notification for tips, promo codes, and updates on our services.
We would love to hear from you
Have a question, concern, or  comment?
Are you a church plant?
We have a special rate for church plants, since the last thing they need to worry about is funding. Let us know in the contact form when you reach out to us. Putting your church bulletins online shouldn't been a headache to consider.
Interested in a Zoom Walkthrough?
We can easily set up time – on your schedule – to walk you through our application in a screen-shared video conference. Simply mention it in the contact form and we will get in touch with you to set up the best time.
See how easy it is to create your online church bulletin…
More tutorials will be coming out in the future to cover all of the aspects of Happy Bulletin.
Our bulletins are made to be beautiful on any device, without needing to download an app.
It's a friendly, non-invasive approach to online church bulletins – as it always should be.